Queen Elizabeth II, 1926 – 2022
It is with great sadness that we record the death of Her Majesty, Queen Elizabeth II.
The Langford Trust for Animal Health and Welfare has a long and valued relationship with the Royal Family and we extend to them our deepest sympathy at this very sad time.
The Queen's compassion and respect for animals has shone bright throughout her life, from her much-loved corgis to her enduring passion for all things equine. Her Majesty The Queen has tirelessly advocated for animal welfare, preservation of wildlife and the environment through her charitable work, whilst being a steadfast supporter of the veterinary sector and it's educational institutions.
In mourning the loss of an exceptional monarch, we reflect upon her extraordinary legacy and give sincere thanks for her unwavering dedication to public service, protecting both humans and animals.
Your Majesty, Queen Elizabeth II, thank you.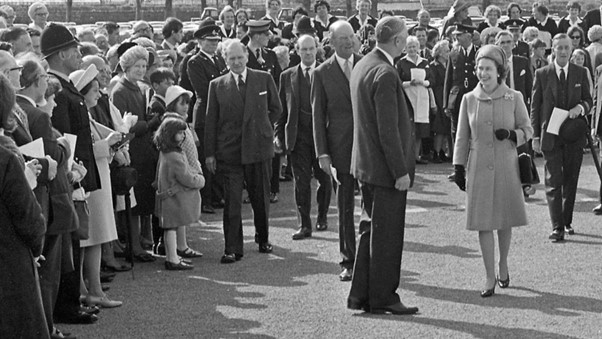 Friday 26 April 1968, The Queen visited Langford House to open the new Meat Research Institute
and see the work of the University's School of Veterinary Science. Image Ardant